Notice To All Phoenix and Arlington Patrons

Due to the recent COVID-19 developments and the measures taken by different local government agencies we regret to inform you that the Phoenix, AZ and Arlington, MA shows have been canceled.
New dates for the Arlignton, MA show will be announced in the near future.
Brad Zimmerman's hilarious and inspiring story about the grit & passion it takes to "make it" as an artist & the sweet rewards that come from never giving up!
My Son The Waiter, A Jewish Tragedy
If you ever longed for something, If you ever desired it with all your heart, If you were willing to wait tables for 29 years to pursue your dream then My Son The Waiter will give meaning to your Life!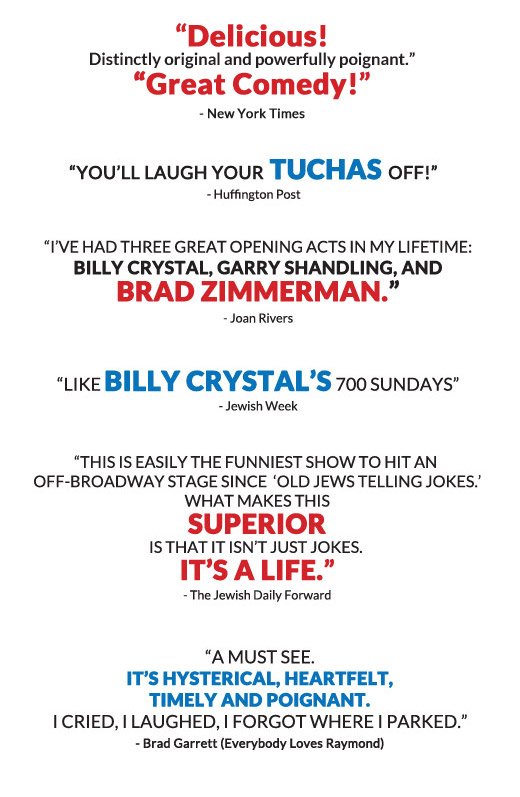 From The Producers of
My Mother's Italian, My Father's Jewish And I'm In Therapy
Respect, and You Say Tomato I Say Shut Up!

JULY 16 - AUGUST 16, 2020
WASHINGTON, DC
Edlavitch DC Jewish Community Center
Aaron & Cecile Goldman Theate
1529 16th Street, NW
Washington, DC 20036
Ticket Sales: 1-855-448-7649
Groups (12+) 1-888-264-1788
Show times:
Thu. 2:00PM & 8:00PM,
Sat. 2:00PM & 8:00PM,
Sun. 2:00PM & 7:30PM
NEW DATES TBA
ARLINGTON, MA
Regent Theatre
7 Medford St
Arlington, MA 02474
Box Office: 781-646-4849
Groups (12+) 1-888-264-1788
Show times:
Thu. 2:00PM & 7:00PM, Fri.8:00PM,
Sat. 2:00PM & 8:00PM, Sun. 2:00PM
TICKETS COMING SOON